Serendipity Blackmagic / Megarip / Veripress 8.1.01+ is compatible with Apple silicon (ARM-based) Macs running macOS 11 Big Sur and above.
Why do printer and spectrophotometer drivers appear to be missing from my Apple silicon software installation?
The release of a new generation of Apple silicon Macs, means that spectrophotometer and printer's screening (HTM) drivers have yet to be updated by their manufacturers to be compatible with ARM architecture.
While Serendipity 8.1.01+ software is Apple silicon compatible, users will find that many device drivers are unavailable if Blackmagic / Megarip / Veripress is run in its default mode on an Apple silicon (ARM-based) Mac.
Users installing on Apple silicon Macs will need to run the software in 'Rosetta' Intel emulation mode to maintain access to these devices, until the manufacturers release native ARM drivers.
Activating Rosetta (Intel emulation) mode
Before running the Serendipity Blackmagic / Megarip / Veripress Server or Serendipity Client, follow the steps below to enable Rosetta mode for your software:
Open a Finder window.
Navigate to

…Applications/Serendipity/Serendipity Blackmagic
…Applications/Serendipity/Serendipity Megarip
or …Applications/Serendipity/Veripress folder.

Select the

Serendipity Blackmagic
Serendipity Megarip
or Veripress program.

Type CMD+I, or right-click then select Get Info from the menu, this will open a Get Info pop-up window for the program.
Tick (turn on) the Open Using Rosetta checkbox.
Close the Get Info window.
Repeat steps 4-6 above for the Serendipity Client and/or the C5 program.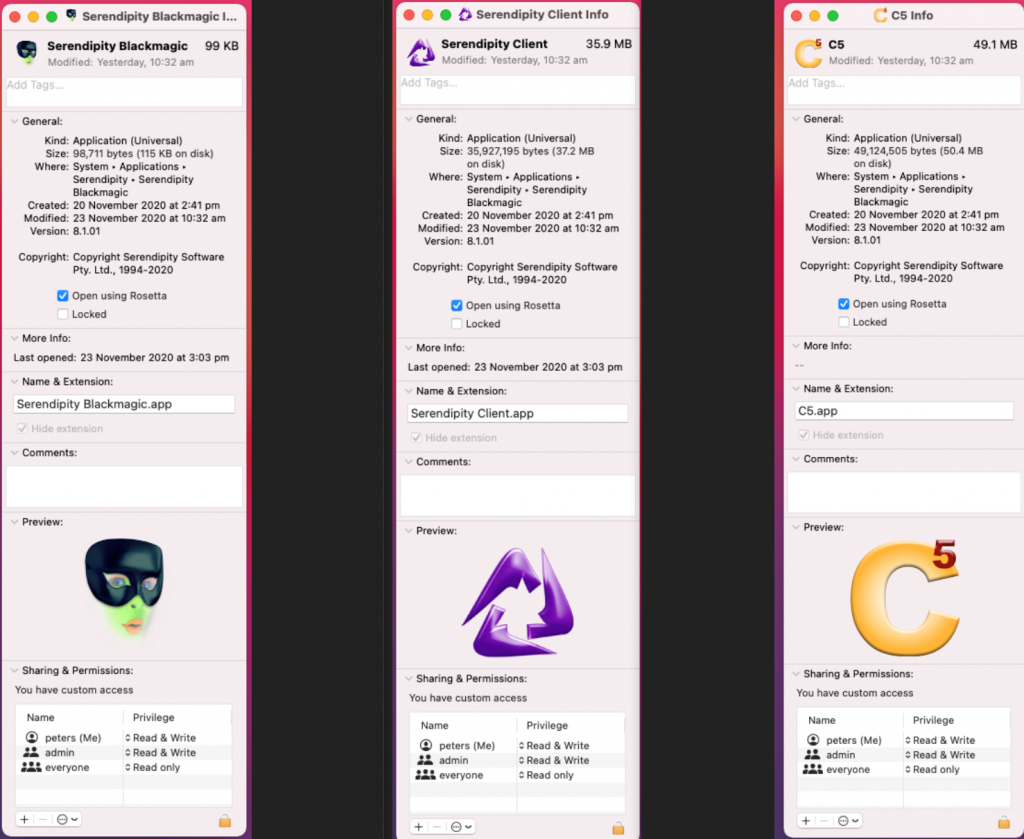 Your Blackmagic / Megarip / Veripress installation will now be run in Rosetta mode until such time as you go back and untick the Open using Rosetta option.
All current macOS compatible devices will now be available for use.

PDF Download