The Studio application has been updated for Serendipity Blackmagic / Megarip 6.0+.
The improved user-friendly interface provides button access to functions previously only available as menu items. The asset and templates area has been reorganised to a more compact size, allowing for a larger image placement and manipulation panel.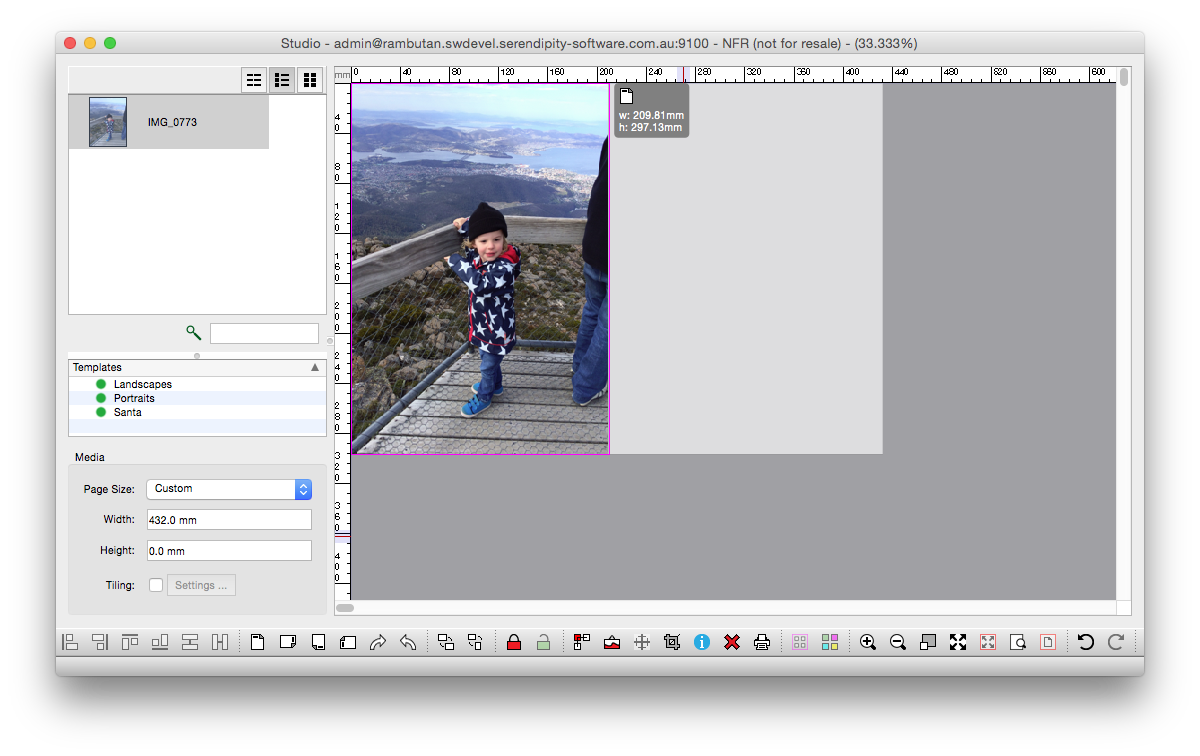 In addition to interface layout changes, the following functionality changes are of note:-
Box Properties (Frame/Content) are now accessed by clicking on the frame then clicking the Box Properties button – blue circle with the letter 'I' – to open a floating Properties window. (Note – Properties can be pinned to the Asset area with an option in Studio Settings)
Tiling document properties (width, height and overlap) are now accessed via the Media Panel by checking the Tiling tickbox to activate, then clicking the Settings button. In addition the following changes have been made:
If the Tiling Document height is set to 0, the height will snap to the height of the asset placed for tiling.
When Tiling if the Media (tile) height is set to 0, assets will be tiled as a series of vertical strips with a height equal to that of the tiling document.
Tiling Document tiles and tile overlaps now show-through the asset being tiled allowing easier and more accurate image placement.
Cropmarks (normal and paper saving) are now displayed in the layout area when enabled on selected frames.
Guides can now be placed precisely using CMD/CTRL + double-clicking on the guide to open a dialog box for measurements to be entered.
For further details on Studio functionality and use, refer to the product manual.
View the Studio Youtube playlist for videos on various Studio functions.

PDF Download