Serendipity Blackmagic / Megarip 6.0+ adds a Printer Status Monitor option to the Serendipity Client, allowing the QueueStatus module to display the current status, ink levels, warnings and error messages of a printer.
Green, Orange and Red indicators show if the printer is in a nominal, warning or error state. Arrow buttons (bottom-right) allow the user to cycle through specific printer message details.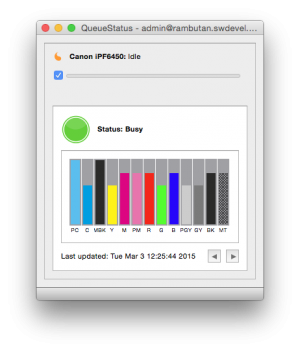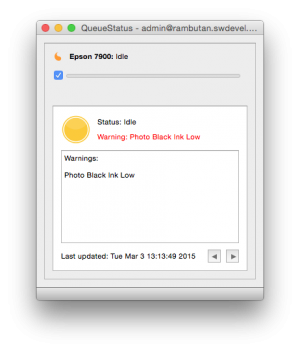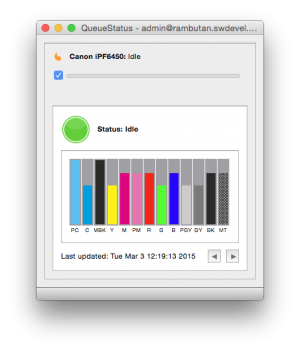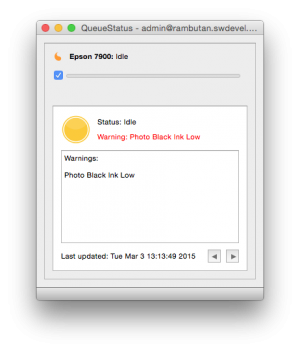 Hovering the cursor over an Ink channel or Maintenance Tank bar will show a tooltip with the ink name, cartridge size, status and % amount of the ink remaining.
Printer Status is checked and QueueStatus updated at varying intervals as follows:-
Printer Idle – every 60 seconds
Printer Busy (printing) – every 15 seconds
Printer disconnected from network or turned off – every 5 min until connection is restored.
Printer Status information can be updated manually at any time by de-activating and re-activating the printer Queue using the tickbox in the QueueStatus panel.
Enabling the Printer Status Monitor
To enable the Printer Status Monitor for a compatible printer driver:
In the Workbench application go to the Output for the printer you wish to monitor
If the printer driver allows monitoring, check to the Monitor printer status tickbox in the Queue panel of the Output, then Save.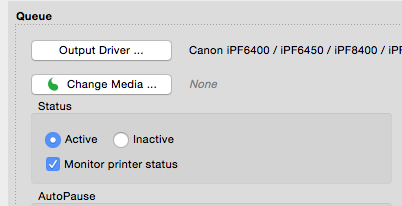 In the Jobs application (or stand alone) QueueStatus module, use the Change Queue contextual (right-click) menu option and select the Output.
Select the (now enabled) Show Printer Status Monitor option from the contextual (right-click) menu.

PDF Download